Professor David Goldstein FRACP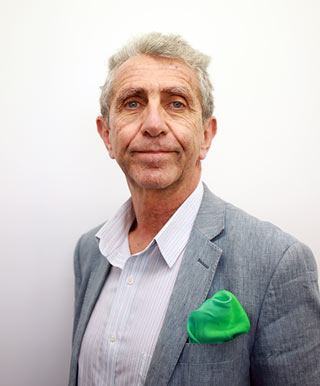 Prof David Goldstein
Prof Goldstein is a conjoint clinical professor. He has been involved in a variety of clinical research projects ranging from laboratory basic science to novel therapeutics trials to psychosocial aspects of Cancer care. He has been PI of a number of NHMRC and Cancer Australia funded therapeutic trials including both investigator initiated and as Australian PI for multinational studies. He has also been involved with psychosocial and cross cultural/CALD research for many years. His clinical interests are treatment of GI malignancies including pancreas cancer, colorectal cancer, anal carcinoma, hepatobilary and upper GI malignancy. He is an invited international member of the NCI hepatobiliary cancer taskforce. He is the Director of the UNSW Translational Cancer Research Network, a $6,000,000 CINSW funded program. He is the adult program leader of the UNSW National Cancer Survivors Centre and is involved with research programs associated with survivorship issues. As part of this activity, he is the CI of a Cancer Institute NSW translational program grant of $3,100,000 to study the impact of chemotherapy induced peripheral neuropathy.
He also actively participates in three laboratory research programs dealing with stromal biology, pancreas drug resistance and modeling optimal targeted therapies in sarcoma that make him well suited to leading multidisciplinary studies engaging both clinical and laboratory components. He has been a Chief or Principal Investigator on $19,000,000 peer-reviewed funded grants.
Clinical Research:
Professor Goldstein has extensive clinical trial experience in both design and leadership. He also participated in a number of translational studies and is an active collaborator in three laboratory programs focused upon modeling of the use of targeted agents. His activity over many years in survivorship have encompassed studies in cancer treatment related chronic fatigue, chemotherapy induced peripheral neuropathy and exercise and cancer. He has co-supervised 2 PhDs in this area and is currently supervising a third. He has also been involved in several large scale epidemiologic studies, the most recent looking at pancreatic cancer. He has contributed to pivotal data resulting in PBS changes in approval for adjuvant gemcitabine in pancreas cancer, imatinib in metastatic and adjuvant GIST and first line nab-paclitaxel in pancreatic cancer. He is currently leading a novel phase 1 b study of an immunotherapeutic combination in pancreas cancer.
Evidence of national and international scientific standing:
Prof Goldstein has more than 290 co-authored peer reviewed publications, since 2013 citations 10030, overall citations 18002, H index since 2013 - 42. He has presented at numerous national and international meetings: USA – ASCO, Japan - Japan Pancreas Society, Gastro week and medical oncology group, New Zealand, S. Korea, Singapore, COSA ASM, National and international collaborations with researchers at University of Sydney, MRC (UK), University of Liverpool, GERCOR, NCIC. Invited reviewer for leading scientific journals, and grant applications (NHMRC, ARC)
PUBLICATIONS
Watson M, Pettingale KPW, Goldstein D(1983) Effects of a fear appeal on arousal, self-reported anxiety, and attitude towards smoking. Psychological Reports, 52(1): 139-146
Geczy C, Ryan J, Walsh J, Goldstein D(1986) Lymphokine-induced monocyte procoagulant activity in depressed patients with advanced malignancies. International Journal of Cancer, 37(5): 677-682
Laszlo J, Goldstein D, Vugrin D, Hood L, Tso CY (1986). Does maintenance therapy with alpha-interferon stabilize cancer growth? A pilot study. Journal of Biol. Resp. Modif., 5(4): 294-299
Goldstein D, Laszlo J (1986) Interferon therapy in cancer: from imaginon to interferon. Cancer Research, 46(9): 4315-4329
Goldstein D, Laszlo J (1986) The role of interferon in cancer therapy. Hosp. Formulary, 21: 932-948
Triozzi P, Goldstein D, Laszlo J (1987) Supportive care of the patient with cancer. Clinics in Geriatric Med. 3(3): 505-516
Goldstein D, Kelly R, et al. (1987) Chemotherapy influencing the course of nephrotic syndrome in colonic carcinoma. Med. Onc. and Tumor Pharmacotherapy, 4(2): 101-105
Goldstein D, Gockerman KR, et al. (1987) Effects of gamma interferon on the endocrine system: results from a phase I study. Cancer Research, 47(23): 6397-6401
Triozzi PL, Goldstein D, Laszlo J (1988) The contributions of benzodiazepines to cancer therapy. Cancer Investig. 6(1): 103-111
Goldstein D, Dawson J, Laszlo J (1988) Suppression of natural killer cell activity by hydrocortisone. Biological Regulators and Homeostatic Agents, 2(1): 25-30
Goldstein D,Nishita K, Ellinwood E, Laszlo J. (1988) Hormonal changes following chemotherapy induced emesis. The Cancer Journal, 2: 21(letter)
Laszlo J, Goldstein D(1988) The doctor's dilemma (The nurse's waterloo). Journal of Cancer Investig., 6(3): 361-363
Goldstein D, Laszlo J (1988) The role of interferon in cancer therapy: a current perspective. Cancer, 38(5): 258-277
Goldstein D, Bushmeyer SM, Witt PL, et al. (1989) Effects of type I and II interferons on cultured human breast cells: interaction with estrogen receptors and with tamoxifen. Cancer Research, 49(10): 2698-2702
Guadagni F, Schlom J, Johnston WW, Szpaj CA, Goldstein D, Smalley RV, Simpson J, Borden EC, Pestka S, Greiner JW (1989) Selective interferon-induced enhancement of tumor associated antigens on a spectrum of freshly isolated human adenocarcinoma cells. JNCI, 81(7): 502-512
Goldstein D, Sielaff K, Storer BE, et al. (1989) Human biologic response modification by interferon in the absence of measureable serum concentrations: a comparative trial of subcutaneous and intravenous interferon beta-serine. JNCI, 81(14): 1061-1068
Phase I studies of recombinant interferon-gamma. Laszlo J, Goldstein D, Gockerman J, et al. Journal Biology Resp. Modif., 9(2): 185-193, April 1990
Goldstein D, Levi JA, Woods RL (1989) Double blind randomized cross-over trial of dexamethasone and proclorperazine as antiemetics for cancer chemotherapy. et al. Oncology 46(2): 105-108
Goldstein D, Hank J, Moore KH, et al. (1989) Repetitive weekly cycles of interleukin-2: effect of outpatient treatment with a lower dose of interleukin-2 on non-major histo-compatibility complex-restricted lower activity. Cancer Research 49(2): 6832-6839
Robinson SP, Goldstein D,Borden EC, Jordan VC (1990) Inhibition of hormone-dependent and independent breast cancer cell growth in vivo and in vitro with the antiestrogen toremifene and recombinant human interferon-alpha 2. Breast Cancer Research and Treatment 15((2): 95-101
Goldstein D, Trump DL, Borden EC, et al. (1990) Phase II trial of carboplatin in soft tissue sarcomas. American Journal Clinical Oncology 13(5): 420-423
Sosman J, Hank J, Moore K, Borchert A, Schell K, Kohler P, Goldstein D, et al. (1991) Prolonged interleukin-2 (IL-2) treatment can augment immune activation without enhancing anti-tumor activity in renal cell carcinoma. Cancer Investig. 9(1): 35-48
Goldstein D (1991) Interferons - Part 1 - Physiology and cancer therapy. Current Therapeutics 32: 45-49
Goldstein D (1991) Interferons - Role in chronic viral diseases. Current Therapeutics 32: 45-50
Goldstein D,O'Leary M, Mitchen J, Borden EC, Wilding GJ. (1991) Effects of interferon beta ser and transforming growth factor beta on prostatic cell lines. Urolology 146(4): 1173-7
Greiner JW, Guadagni F, Goldstein D, Borden EC, Ritts RE Jr., Witt P, LoBuglio AF, Saleh MN, Schlom J. (1991) Evidence for the elevation of serum carcinoembryonic antigen (CEA) and tumor-associated glycoprotein-72 (TAG-72) levels in patients administered interferon. Cancer Research 51(16): 4155-63
Goldstein D, Lewis C (1991) Advances in drug delivery and targeting. Current Opinion in Oncology 3(6): 1096-1104
Witt PL, Goldstein D,Storer BE, Grossberg SE, Flashner M, Colby CB, Borden EC (1992) Absence of biological effects of orally administered interferon-beta ser. Journal of IFN Res. 12: 411-413.
Greiner JW, Guadagni F, Goldstein D, Smalley RV, Borden EC, Simpson JF, Molinolo A, Schlom J (1992) IP administration of interferon-gamma to carcinoma patients enhances expression of tumor-associated glycoprotein-72 (TAG-72) and carcinoembryonic antigen (CEA) on malignant ascites cells. Journal of Clinical Oncology. 10(5): 735-46
Smalley RV, Goldstein D, Bulkowski D, Hannon C, Buchler D, Knudsen C, Tuttle RLA (1992) phase II study of crisnatol mesylate in patients with ovarian carcinoma.Invest New Drugs 10(2): 107-12
Gibson DFC, Johnson DA, Goldstein Det al. (1993) Human recombinant interferon-beta ser and tamoxifen: growth suppressive effects for the human breast carcinoma MCF-7 grown in the athymic mouse. Breast Cancer Research and Treatment 25(2): 141-150
Goldstein D, Cooper DA (1993) Current status of clinical trials in HIV disease in Australia. J. AIDS 6(1) 1: S68-71
Lewis CR, Segelov E, Goldstein D, Friedlander ML (1993) Chemotherapy made easier. ANZ Journal of Medicine 23(4): 387-392
Tindall B, Forde S, Ross MW, Goldstein D, et al. (1994) Sexual dysfunction in advanced HIV disease. AIDS Care 6(1): 105-107
Nolten W, Goldstein D, Lindstrom M, et al (1993) Effects of cytokines on the pituitary-adrenal axis in humans. J. IFN Res. 13(5): 349-357
Goldstein D(1994) HIV associated malignancies. Cancer Forum 18: 7-11
Tindall B, Forde S, Ross MW, Goldstein Det al.(1994) Effects of two formats of informed consent on knowledge amongst persons with advanced HIV disease enrolling in a clinical trial of didanosine. Patient Education and Counselling, 24(3): 261-266
Pryor K, Goddard J, Goldstein D, et al. (1995) Bacillus Calmette-Guerin (BCG) enhances monocyte and lymphocyte-mediated bladder tumour cell killing. British Journal of Cancer 71(4): 801-807
Dear A, Goldstein D, Salem HH (1995) Pulmonary chronic lymphocytic leukaemia: difficulty in establishing a tissue diagnosis. European Journal of Haematology; 54(2): 130-133
Nirenberg A, Goldstein D(1995) Metastatic carcinoma infiltrating lung mimicking boop. Australasian Radiology 39(4): 405-407
Goldstein D(1996) HIV associated malignancies. Haematological Research Communications 9:275-283
Boyle MJ, Goldstein D, Fraser I, Scully T (1996) HIV and malignancy. Medical Journal of Australia, 164:230-2
Millar J, Goldstein D, Gelmon K (1996) A practical guide to management of Kaposi's sarcoma. Medical Journal of Australia, 164:537-42
Millward MJ, Bishop JF, Friedlander M, Goldstein D, Levi JA, Olver IN, Smith JG, Toner GC, Rischin D, Bell DR (1996) A phase II trial of a 3-hour infusion of paclitaxel in previously untreated patients with advanced non-small cell lung cancer. Journal of Clinical Oncology, 14(1): 142-148
Dear A, Goldstein D, Hayman J, Salem H (1996) Malignant pulmonary lymphoid disease; case reports illustrating anatomical pattern of disease as a prognostic marker. Annals of Pathology 28:20-4
Goebel FD, Goldstein D, Goos M, Jablonowski H, Stewart S for the International DOX-SL Study Group. Efficacy and safety of stealth liposomal doxorubicin in AIDS-related Kaposi's sarcoma. British Journal of Cancer. 73: 989-994
Newell M, Goldstein D, Milliken S, et al (1996) Phase I/II trial of filgrastim, CEOP chemotherapy and antiretroviral therapy in HIV-related non-Hodgkin's lymphoma. Annals of Oncology 7(10), 1029-36
Morton J, Taylor K, Bunce I, Eliadis P, Rentoul A, Moore D, Kelly C, Wright S, Bashford J, Rodwell R, Rooney K, Mulligan S, Firkin F, Dodds A, Parkin J, Lowenthal R, Kimber R, Frost T, Grigg A, GoldsteinD, Stone J, Lee N, et al (1996) High response rates with short infusional 2-chlorodeoxyadenosine in de novo and relapsed low-grade lymphoma. Australian and New Zealand Lymphoma Group. British Journal of Haematology, 95:110-5
Stricker P, Pryor K, Nicholson T, Goldstein D. et al (1997) Bacillus Calmette-Gulerin plus intravesical interferon alpha-2b in patients with superficial bladder cancer. Urology 48: 957-961
Bishop JF, Dewar J, Tattersall MH, Smith J, Olver I, Ackland S, Kennedy I, Goldstein Det al (1997). Initial paclitaxel improves outcome compared with CMFP combination chemotherapy as front-line therapy in untreated metastatic breast cancer. J Clin Oncol. 1999 Aug;17(8):2355-64
Pillay P, Goldstein D, Hayman J, Leyden M. (1997) Association of hypercalcaemia, PTHrP expression and disease progression in a woman with primary squamous cell carcinoma of the breast. Pathology 29, 317-319
Diffuse alveolar damage following a single administration of a cyclophosphamide containing chemotherapy regimen. Wooley I, Collett J, Goldstein D. Australian & New Zealand Journal of Medicine 1997 27:605-606, 1997
Padiglione A, Goldstein D, Law M, Joy J, Kaldor M, Mijch A. (1997) Prognosis of Kaposi's sarcoma as an initial and later aids associated illness. Annals of Oncology 8:871-875
Australian leukaemia study group myeloma II: A randomised trial of intensive combination chemotherapy with or without interferon in patients with myeloma. Joshua DE, Penny R, Matthews TP, Laidlaw CL, Gibson J, Bradstock K, Wolf M, Goldstein, D. British Journal of Haematology, 97:38-45, 1997
Davis A, Goldstein D,Milliken S (1998) Long term follow up of CEOP in the treatment of HIV related NHL. ANZ Journal of Medicine, 28:28-32
Goldstein D, Hertzog P, Tompkinson E, Couldwell D, McCarville S, Parrish S, Newell M, Harle D, Owens M, Cooper DA (1998) Administration of Imiquimod, an interferon inducer, in asymptomatic viral infected patients to determine safety and biological response modification. Journal of Infectious Diseases, 178:858-61
Newell M, Milliken S, Goldstein D, Lewis CR, Boyle M, Dolan G, Ryan S, Cooper DA (1998) Phase II study of liposomal doxorubicin in the treatment of AIDS-related Kaposi's sarcoma. Australian and New Zealand Journal of Medicine 28:777-783
Huang X, Butow P, Meiser B, Goldstein D(1999) Attitudes and Information Needs of Chinese migrant cancer patients and their relatives. Australian and New Zealand Journal of Medicine 29 (2) 207-13
Pointon O, Scott A, Berlangieri, S, McKay WJ, Goldstein D(1999) F-18 fluorodeoxyglucose PET and Ga-67 citrate scintigraphy in a case of AIDS lymphoma and pericarditis. Clinical Nuclear Medicine 24(10):817-8
Bishop JF, Dewar J, Toner GC, Smith J, Tattersall MH, Olver IN, Ackland S, Kennedy I, GoldsteinD, Gurney H, Walpole E, Levi J, Stephenson J, Canetta R, (1999) Initial Paclitaxel Improves Outcome Compared to CMFP Combination Chemotherapy as Front-line Therapy in Untreated Metastatic Breast Cancer. Journal of Clinical Oncology, 17:2355-64
Herz H, Cooke B, Goldstein, D(2000) Metastatic Secretory Breast Cancer Non Responsiveness to Chemotherapy: Case Report and Review of the Literature. Annals of Oncology 11:1343-7
Meiser B, Eisenbruch M, Barlow-Stewart K, Tucker K, Steel Z, Goldstein D(2001) Cultural aspects of cancer genetics: setting a research agenda. Journal of Medical Genetics, 38(7):425-9
Ngan SY, Burmeister BH, Fisher R, Rischin D, Schache DJ, Kneebone A, MacKay JR, Joseph D, Bell A, Goldstein D(2001) Early toxicity from preoperative radiotherapy with continuous infusion 5-fluorouracil for resectable adenocarcinoma of the rectum: a Phase II trial for the Trans-Tasman Radiation Oncology Group. Int. Journal of Radiation Oncology Biol. Phys. 15; 50(4):883-7
Boyer MJ, Mitchell P, Goldstein D, Millward MJ, Olver IN, Clarke SJ, Richardson G, Davis I (2001) Phase II study of paclitaxel and oral etoposide in patients with locally advanced or metastatic non-small cell lung cancer. Lung Cancer, 32(1):89-94
Goldstein D, Thewes B, Butow P (2002) Communicating in a multicultural society II: Greek community attitudes towards cancer in Australia. Int. Med. Journal, 2002 32
Wong W, Goldstein, D, Woo H, Testa G, Gurney H (2002) Interferon alpha 2a and 13-cis-Retinoic Acid for the Treatment of Metastatic Renal Cell Carcinoma. Int. Med. Journal, 32:158-162
Marx GM, Boyce A, Goldstein D(2002) Elevated alpha-fetoprotein and hepatic metastases - its not always what it seems! Annals of Oncology 13, 167-9
Eisenbruch M, Soo SY, Meiser B, Goldstein D, Tucker K, Barlow-Stewart K (2004) Optimising clinical practice in cancer genetics with cultural competence: lessons to be learnt from ethnographic research with Chinese Australians. Social Science & Medicine 59(2):235-248
Harrison ML, Goldstein D(2002) Prolonged survival in a patient with an occult primary small-cell lung cancer and a solitary brain metastasis at diagnosis. Journal of Internal Med. 32(12):621-2
Jones R, Goldstein D, Kurtovic J, Keogh G, Riordan S (2003) Compression of liver parenchyma by a malignant hepatic cyst; A previously unreported manifestation of metastatic gastric cancer. American Journal of Gastroenterology 98(5):1211-3
Sanjaya S, Kelly J, Lloyd A, Waliuzzaman Z, Goldstein D, Rawlinson W (2003) Multi-centric Castleman's Disease – treated with antivirals and immunosuppressants. Journal of Med. Virol.71(3):399-403
Shannon JF, Mackenzie-Wood A, Wood G, Goldstein D(2003) Cicatricial pemphigoid in non-Hodgkin's Lymphoma. Journal of Internal Medicine 33(8): 396-7
Goldstein D, Carroll S, Apte M, Keogh G (2004) Modern management of pancreatic carcinoma.
Internal Med. Journal, 2004 Aug; 34(8):475-81. Review
Daly EB, Chen G, Sun L, Friedlander M, Goldstein D, Beer DG, Chesterman CN, Hogg PJ. Blood level of phosphoglycerate kinase does not correlate with presence or extent of tumor. Int. Journal of Biol. Markers 2004 Apr-Jun; 19(2):170-2
Hagerty RG, Butow P, Ellis PA, Lobb EA, Pendlebury S, Leighl N, Goldstein D, Lo SK, Tattersall MHN (2004) Cancer patient preferences for communication of prognosis in the metastatic setting. Journal of Clinical Oncology 22(9):1721-30
Jong KE, Smith DP, Yu XQ, O'Connell DL, Goldstein D, Armstrong BK (2004) Remoteness of residence and survival from cancer in New South Wales. Med. Journal of Aust., 2004 Jun 21;180(12):618-22
Yang JL, Qu XJ, Russell PJ, Goldstein D(2004) Regulation of Epidermal Growth Factor Receptor in Human Colon Cancer Cell Lines by Interferon-alpha. Gut 2004 53(1):123-9
Qu XJ, Yang JL, Russell PJ, Goldstein D(2004) Changes in Epidermal Growth Factor Receptor Expression in Human Bladder Cancer Cell Lines Following Interferon-Alpha Treatment. Journal of Urology, 172:733-738
Robotin MC, Law MG, Milliken S, Goldstein D, Garsia RJ, Dolan GM, Kaldor JM, Grulich AE (2004) Clinical features and predictors of survival of AIDS-related NHL in a population-based case series in Sydney, Australia. HIV Medicine 5:377-384
Bennett B, Goldstein D, Lloyd A, Davenport TA, Hickie I (2004) Fatigue and psychological distress – Exploring the relationship in women treated for breast cancer. European Journal of Cancer; 40:1689-1695
Loi S, Goldstein D, Clezy K, Milliken ST, Hoy J, Chipman M (2004) Castleman's disease and human immunodeficiency virus (HIV) infection in Australia. HIV Medicine 5:157-162
Brown RF, Butow PN, Sharrock M, Henman M, Boyle F, Goldstein D, Tattersall MHN (2004) Education and role modelling for clinical decisions with female cancer patients. Health Expectations :303-316
Hughes B, Yip D, Goldstein D, Waring P, Beshay V, Chong G (2004) Cerebral relapse of metastatic gastrointestinal stromal tumor whilst on Imatinib mesylate: Case report. BMC Cancer 09;4(1):74
Hughes BG, Yip D, Chao M, Gibbs P, Carroll S, Goldstein D, Burmeister B, Karapetis C
(2004) Audit of postoperative chemoradiotherapy as adjuvant therapy for resected gastroesophageal adenocarcinoma: an Australian multicentre experience. ANZ Journal of Surg.; 74(11):951-6
Apte MV, Park S, Phillips PA, Santucci N, Goldstein D, Kumar RK, Ramm GA, Buchler M, Friess H, McCarroll JA, Keogh G, Merrett N, Pirola R, Wilson JS. Desmoplastic reaction in pancreatic cancer: role of pancreatic stellate cells. Pancreas. 2004 Oct; 29(3):179-87
Yeo SS, Meiser B, Barlow-Stewart K, Goldstein D, Tucker K, Eisenbruch M (2005) Understanding community beliefs of Chinese-Australian about cancer: Initial insights using an ethnographic approach. Journal of Psycho-oncology, 14:174-186
Marx G, Taylor J, Goldstein, D(2005) Outpatient Treatment with subcutaneous Interleukin-2, Interferon A and Fluorouracil in Patients with Metastatic Renal Cancer: An Australian Experience. Journal of Internal Medicine 35, (1,) 34-38
Grimison P, Yeo B, Goldstein D(2005) An unusual abdominal mass. Gut 54(4):478, 514
Grimison P. Goldstein D,Schneeweiss J. Murray N (2005) Corticosteroid-responsive interstitial pneumonitis related to Imatinib mesylate with successful rechallenge, and potential causative mechanisms. Internal Medicine Journal, 35 (2) 136-137
Ngan SY, Fisher R, Burmeister BH, Mackay J, Goldstein D, Kneebone A, Schache D, Joseph D, McKendrick J, Leong T, McClure B, Rischin D (2005) Promising Results of a Co-operative Group Phase II Trial of Preoperative Chemoradiation for Locally Advanced Rectal Cancer (TROG 9801). Dis Colon Rectum. 48(7):1389-96
Yang J-L, Xian-Jun Q, Russell PJ, Goldstein D. Interferon-alpha enhances the anti-proliferative effect of erlotinib (OSI-774) on human colon cancer cell lines. Cancer Letters,225 (1) 61-74
Goldstein D, Mitchell P, Michael M, Beale P, Friedlander M, Zalcberg J, White S, Clarke S (2005) Australian experience of a modified schedule of FOLFOX with high activity and tolerability and improved convenience in untreated metastatic colorectal cancer patients. British Journal of Cancer 92(5):832-7
Krishnan AY, Goldstein D, Friedlander M, Kiernan MT (2005) Oxaliplatin induced neurotoxicity and the development of neuropathy. Muscle and Nerve 32(1) 51-60
Thewes B, Meiser B, Taylor A, Phillips KA, Pendlebury S, Capp A, Dalley D, Goldstein D, Baber R, Friedlander ML (2005) The Fertility and Menopause-Related Information Needs of Younger Women with a Diagnosis of Early Breast Cancer. Journal of Clinical Oncology 23(22) 5155-65
Van Glabbeke M, Verweij J, Casali PG, Le Cesne A, Hohenberger P, Ray-Coquard I, Schlemmer M, van Oosterom AT, Goldstein D, Sciot R, Hogendoorn PCW, Brown M, Bertulli R, Judson (2005). Initial and late resistance to Imatinib (IM) in advanced gastro-intestinal stromal tumours (GIST) are predicted by different prognostic factors. An EORTC-ISG-AGITG study IR. Journal of Clinical Oncology 23(24) 5795-5804
Yang JL, Qu XJ, Russell P, Goldstein D(2005) Interferon-alpha promotes the anti-proliferative effect of gefitinib (ZD 1839) on human cancer cell lines. Oncology 69(3):224-38
Grimpen, F, Yip D, McArthur G, Waring P, Goldstein D, Loughrey M, Chong G (2005). Resistance to Imatinib mesylate associated with low-grade FDG-avidity on PET and acquired KIT Exon 17 mutation in gastrointestinal stromal tumour. Lancet Oncology 6(9) 724 727
Goldstein D, Tang B, Rossleigh M, Haindl W, Walker B, Dixon. Gastro-intestinal stromal tumours (GIST): (2005) The use of 18F-FDG gamma camera based co-incidence-Positron Emission Tomography 9co-PET (co-PET) with CT correlation for assessment of treatment response. An AGITG sub-study. Oncology, 69:326-32
Dalton L, Luxford K, Boyle F, Goldstein D, Underhill C, Yates P. An educationalworkshop program for rural nurses and general practitioners to encourage best practice for delivery of systemic adjuvant therapy. Journal of Cancer Education 2006, Vol. 21, No. 1, Pages 35-39
Barlow-Stewart K, Yeo SS, Meiser B, Goldstein D, Tucker K, Eisenbruch M, (2006) Towards cultural competence in cancer genetic counselling and genetics education: lessons learnt from Chinese-Australians. Genetics in Medicine, 8:24-32
Goldstein D, Ackland SP, Bell DR, Olver IN, Davis ID, Rosenthal MA, Toner GC, Pinel MC, Byrne M. Phase II study of Vinflunine in patients with metastatic renal cell carcinoma. Investigational New Drugs Sep; 24(5):429-3 (2006)
Yip D, Karapetis C, Steer CB, Strickland A, Goldstein D. Chemotherapy and radiotherapy for pancreatic cancer Reviewers - Cochrane Collaboration Cochrane Database Syst Rev. 2006 Jul 19; 3: CD002093. Review
Harrison M, Goldstein DManagement of metastatic gastrointestinal stromal tumour in the Glivec era: A practical case-based approach. Int. Med. Journal, Jun; 36(6):367-77. Review
Grimison P, Chin M, Harrison M, Goldstein D. Primary pancreatic lymphoma, - pancreatic tumours that are potentially curable without resection, a retrospective review of four cases. BMC Cancer 2006, 6:117
Shepherd L, Goldstein D,Whitford H, Thewes B, Brummell V, Hicks M. The utility of videoconferencing to provide innovative delivery of psychological treatment for rural cancer patients: results of a pilot study. Journal of Pain and Symptom Management Nov; 32(5):453-61, 2006
Krishnan AV, Goldstein D, Friedlander M, Kiernan MC. Oxaliplatin and axonal Na+ channel function in vivo. Clinical Cancer Research, Aug 1;12(15):4481-4, 2006
Mitchell PL, Goldstein D, Michael M, Beale P, Friedlander M, Zalcberg J, White S, Thomson JA, Clarke S. Addition of Gabapentin to a Modified FOLFOX Regimen Does Not Reduce Oxaliplatin-Induced Neurotoxicity. Clinical Colorectal Cancer, Jul; 6(2):146-512006
Mok K, Goldstein D.Hypersensitivity Reactions to Oxaliplatin: Can Patients Be Rechallenged? Asia Pacific Journal of Clinical Oncology in press 2006
Goldstein D, Bennett B, Friedlander M, Davenport T, Hickie I, Lloyd A.Fatigue states after cancer treatment occur both in association with and independent of mood disorder: a longitudinal study. BMC Cancer 2006, 6:240
Underhill C, Goldstein D, Grogan P. Inequity in rural cancer survival in Australia is not an insurmountable problem. Medical Journal of Aust. Nov 6;185(9):479-80, 2006
Bennett B, Goldstein D, Friedlander M, Hickie I, Lloyd A. The experience of cancer-related fatigue and chronic fatigue syndrome: a qualitative and comparative study. Journal of Pain and Symptom Management 2007 Aug;34(2):126-35
Findlay M, Storey D, Gebski V, Hargreaves C, Cullingford G, Boyer M, Trotter J, Archer S, Davidson A, Johnston P, Yuen J, Dhillon H, Della-Fiorentina S, Richardson G, Truskett P, Goldstein D. A pilot study of preoperative and postoperative chemotherapy using Epirubicin, cisplatin and infusional 5-fluorouracil (ECF) in patients with operable gastric cancer: Australasian Gastro-Intestinal Trials Group (AGITG) study 9601. Australasian and New Zealand Journal of Surgery 2007, 77(4) 247-52
Michael M, Goldstein D, Clarke SJ, Milner AD, Beale P, Friedlander M, Mitchell P. The prognostic factors predictive of response and survival to a modified FOLFOX regimen: the importance of an elevated neutrophil count. Clinical Colorectal Cancer in 2006, 6 (4):297-304
Yang JL, Qu XJ, Hayes VM, Brenner PC, Russell PJ, Goldstein D.Erlotinib (OSI-774). Inhibition of Transitional Cell Carcinoma of Bladder Cell Line Growth Is Enhanced by Interferon-alpha BJU. Int. 2007: 99(6) 1539-1545
Xavier K, Shepherd L, Goldstein D.Clinical supervision and education via videoconference: a feasibility project. Journal of Telemedicine and Telecare 2007;13(4):206-9
Moore MJ, Goldstein D, Hamm J, Figer A, Hecht JR, Gallinger S, Au HJ, Murawa P, Walde D, Wolff RA, Campos D, Lim R, Ding K, Clark G, Voskoglou-Nomikos T, Ptasynski M, Parulekar W. Erlotinib Plus Gemcitabine Compared With Gemcitabine Alone in Patients with Advanced Pancreatic Cancer: A Phase III Trial of the National Cancer Institute of Canada Clinical Trials Group. Journal of Clinical Oncology, 2007 25(15) 1960-6
Stockler MR, O'Connell R, Nowak AK, Goldstein D, Turner J, Wilcken NRC, Wyld D, Abdi E, Glasgow A, Beale PJ, Jefford M, Dhillon H, Heritier S, Carter C, Hickie, Simes RJ on behalf of the The ZEST Trial Group. Sertraline's effects on symptoms and survival in people with advanced cancer but not major depression: The ZEST Trial. Lancet Oncology 2007 Jul;8(7):603-12
Goldstein D, Van Hazel G, Walpole E et al. Gemcitabine with a specific conformal 3D 5FU radiochemotherapy technique is safe and effective in the definitive management of locally advanced pancreatic cancer. British Journal of Cancer 2007 Aug 20;97(4):464-71
Clarke S, Goldstein D, Mitchell P, Michael M, Beale P, Friedlander M, Zalcberg J, White S. Modification of leucovorin dose within a simplified FOLFOX regimen improves tolerability without compromising efficacy. Clin. Colorectal Cancer 2007 Jul;6(8):578-82
Underhill C, Goldstein D, Gorbounova VA, Biakhov Y, Bazin IS, Granov DA, Hossain Am, Blatter J, Kaiser C, Ma D. A randomized phase II trial of pemetrexed plus irinotecan (ALIRI) versus leucovorin-modulated 5-FU plus irinotecan (FOLFIRI) in first-line treatment of locally advanced or metastatic colorectal cancer. Oncology 2008; 73:9-20
Spry N, Harvey J, MacLeod C, Borg M, Ngan S, Millar J, Graham P, Zissiadis Y, Kneebone A, Carroll S, Davies T, Reece WHH, Iacopetta B, Goldstein D.3D radiotherapy can be safely combined with sandwich systemic gemcitabine chemotherapy in the management of pancreatic cancer: factors influencing outcome. Int. Journal of Radiation Oncology, Biology, Physics. 2008 Apr 1; 70(5):1438-46
Shepherd L, Parle M, Olver I, Goldstein D. Enhancing psychosocial care for people with cancer in rural communities: What can remote counselling offer? Australian Health Review 32:423-38, 2008
Vonlaufen A, Joshi S, Qu CF, Phillips PA, Xu ZU, Parker NR, Toi CS, Pirola R, Wilson J, Goldstein D, Apte MV. Pancreatic Stellate Cells: Partners in Crime with Pancreatic Cancer Cells. Cancer Research, 2008 Apr 1; 68(7):2085-93

Major lab result showing co-option of the host environment in promoting cancer development, only oncologist in the publication

Park S, Krishnan AV, Lin C S-Y, Goldstein D, Friedlander M, Kiernan MC. Mechanisms underlying chemotherapy-induced neurotoxicity and the potential for neuroprotective strategies. Current Medicinal Chemistry 15:3081-94, 2009
Park SB, Goldstein D, Lin C S-Ly, Krishnan AV, Friedlander M, Kiernan MC. Acute abnormalities of sensory nerve function associated with oxaliplatin-induced neurotoxicity. Journal of Clinical Oncology, Mar. 10 2009: 1243-1249
Response of Carney's triad-related metastatic gastrointestinal stromal tumor to Sunitinib. Pranavan G, Goldstein D, Yip D. Asia-Pacific Journal of Clinical Oncology, Volume 4, Issue 3 Pages 170-174, 2009
Vonlaufen A, Phillips PA, Xu Z, Goldstein D, Pirola RC, Wilson JS, Apte MV. Lending a Helping Hand: Role of Pancreatic Stellate Cells in Pancreatic Cancer. Cancer Research 68:7707-10, 2008
Girgis A, Hansen V, Goldstein D. Are Australian Oncology health professionals burning out? A view from the trenches. European Journal of Cancer, Volume 45, Issue 3 February 2009, 393-399
Zalcberg Z, Desai J, Mann B, Fox S, Goldstein D, McArthur G, Clark M, Yi D. Consensus approaches to best practice management of gastrointestinal stromal tumours. Asia-Pacific Journal of Clinical Oncology 2008. Review articles Published Online: Dec 11 2008
Lee CK, Hadley A, Desilva K, Smith G, Goldstein D. When is a GIST not a GIST? A case report of synchronous metastatic gastrointestinal stromal tumor and fibromatosis. World Journal of Surgery 7;8, 2009
Van Hazel G, Pavlakis N, Goldstein Det al. Treatment of 5-Fluorouracil-Refractory Patients With Liver Metastases From Colorectal Cancer Using Yttrium-90 Resin Microspheres Plus Concomitant Systemic Irinotecan Chemotherapy, Journal of Clinical Oncology, 27:4085-95, 2009
Steer CB, Marx GM, Singhal N, McJannett M,Goldstein D, Prowse R. Cancer in the older adult: a tale of two disciplines. Int. Med. Journal, 39-771-5, 2009
Chua W, Goldstein D, Lee CK, Dhillon H, Michael M, Mitchell P, Clarke SJ, Iacopetta B. Molecular markers of response and toxicity to FOLFOX chemotherapy in metastatic colorectal cancer. British Journal Cancer, 101. 998-1004, 2009
Park SB, Lin C S-Y, Krishan AV, Goldstein D, Friedlander M, Kiernan MC.Oxaliplatin-induced neurotoxicity: changes in axonal excitability precede development of neuropathy. BRAIN, 32: 2712-23, 2009
Tan TH, Hemmings C, Stafford-Bell M, Robson S, Goldstein D, Yip D. The successful management of two pregnancies with wild type metastatic gastrointestinal stromal tumors. Asia Pacific Journal of Clinical Oncology, 2009, 5:187-192
Underhill C, Bartel R, Goldstein D, Snodgrass H, Begbie S, Yates P, White K, Jong K, Grogan P. Mapping oncology services in regional and rural Australia. Australian Journal of Rural Health. 17: 321-9, 2009
Lovell M, Forder P, Stockler M, Butow P, Briganti E, Chye R, Goldstein D, Boyle FM, A randomized controlled trial of a standardized educational intervention for patients with cancer pain. Journal of Pain and Symptom Management, 2010 Jul;40(1):49-59
Butow PN, Sze M, Dugal-Beri P, Mikhail M, Eisenbruch M, Jefford M, Schofield P, Girgis A, King M, Goldstein D. From inside the bubble: Migrants' perceptions of communication with the cancer tea. Journal of Supportive Care in Cancer, 2010 Feb;19(2): 281-90
Gill AJ, Chou A, Vilain R, Clarkson A, Lui M, Jin R, Tobias V, Samral J,Goldstein D, Smith C, Sioson L, Parker N, Smith RC, Sywak M, Sidhu S, Wyatt JA, Robinson B, Eckstein RP, Benn DE, Clifton-Bligh RJ. Immunohistochemistry for SDHB divides gastrointestinal stromal tumours (GISTs) into two distinct types. American Journal of Surgical Pathology 2010 May; 34(5):636-44
Blinman P, Duric V, Nowak AK, Beale P, Clarke S, Briscoe K, Boyce A, Goldstein D, Hudson M, Stockler M. Adjuvant chemotherapy for early colon cancer: what survival benefits make it worthwhile? European Journal of Cancer 2010 Jul; 46(10):1800-7
Kosczwara B, Francis K, Marine F,Goldstein D, Underhill C, Olver I. Reaching Further with Online Education? The Development of an Effective Online Program in Palliative Oncology. Journal of Cancer Education 2010 Sep; 25(3):317-23
Park SB, Lin C S-Y, Krishnan AV, Goldstein D,Friedlander ML, Kiernan MC. Oxaliplatin-induced lhermitte's phenomenon as a manifestation of severe generalized neurotoxicity. Oncology, 2009; 77(6): 342-8 2009
Harris C, Goldstein D.Tamoxifen use in retroperitoneal fibrosis, case report and review of the literature. Med. Journal, 2010 Dec; 40(12):e5-7
Goldstein D, Gainford MC, Brown C, Tebutt N, Ackland SP, Van Hazel G, Jefford M, Abdi E, Selva S, Gebski V, Miller D, Shannon J for the Australasian Gastrointestinal Trials Group. Optimising the benefit: a phase II trial of Gemcitabine in fixed dose rate infusion combined with Cisplatin in patients with operable biliary tract carcinomas. The Australasian Gastrointestinal Trials Group (AGITG) ABC Trial. Cancer Chemotherapy Pharmacology 2011 Mar; 67(3): 519-25
Sjoquist KM, Goldstein D, Bester L. A Serious Complication of Selected Internal Radiation Therapy: Case Report and Literature Review. Oncologist. 2010; 15(8):830-5
Neoptolemos JP, Stocken DD, Bassi C, Ghaneh P, Cunningham D, Goldstein D,Padbury R, Moore MJ, Gallinger S et al for the European Study Group for Pancreatic Cancer. Adjuvant chemotherapy with fluorouracil plus folinic acid vs Gemcitabine following pancreatic cancer resection: a randomized controlled trial. JAMA.2010; 304(10): 1073-1081
Xu Z, Vonlaufen A, Phillips PA, Fiala-Beer E, Zhang X, Yang L, Biankin AV, Goldstein D, Pirola RC, Wilson JS, Apte Role of Pancreatic Stellate Cells in Pancreatic Cancer Metastasis. Journal of Pathology, 2010 Nov; 177(5):2585-96
Park SB, Lin C S-Y, Krishnan A, Goldstein D, Friedlander M, Kiernan M. Utilising Natural activity to dissect the patho-physiology of acute Oxaliplatin-induced neuropathy. Experimental Neurology, 2011 Jan; 227(1):120-7
Tebbutt NC, Murphy F, Zannino D, Wilson K, Cummins MM, Abdi E, Strickland AH, Lowenthal RM, Marx G, Karapetis C, Shannon J, Goldstein D,Nayagam SS, Blum R, Chantrill L, Simes RJ, Price J on behalf of the Australasian Gastro-Intestinal Trials Group (AGITG). Risk of arterial thromboembolic events in patients with advanced colorectal cancer receiving Bevacizumab. Annals of Oncology. 2011 epub Jan 27
Butow PN, Lobb EA, Jefford M, Goldstein D, Eisenbrugh M, Girgis A, King M, Sze M, Aldridge LJ, Schofield P. A bridge between cultures: interpreters' perspectives on consultations with migrant oncology patients. Journal of Supportive Care in Cancer, 2010 Feb; 19(2): 281-90
Park S, Lin CS, Krishnan AV, Goldstein D, Friedlander ML, Keirnan MC. Long term neuropathy after Oxaliplatin treatment: challenging the dictum of reversibility. Oncologist, 20-11 April 8 2011
Wirth A, Grigg A, Wolf M, Goldstein D,Johnson C, Davis S, Dutu G, Kypreos P, Smith C, Kneebone A, Herzberg M, Joseph D, Catalano J, Roos D, Stone J, Reynolds J. Risk and Response Adapted Therapy for Early Stage Hodgkin Lymphoma: A Prospective Multi-Centre Study of the Australasian Leukaemia and Lymphoma Group/Trans-Tasman Radiation Oncology Group. Leukaemia and Lymphoma, accepted Dec 2010
Leighl N, Shepherd NL, Butow PN, Clarke SJ, McJannett M, Beale PJ, Wilcken NRC, Moore MJ, Chen XE, Goldstein D, Horvath L, Knox JJ, KrzyzanowskaM, Oza AM, Feld R, Hedley D, Xu W, Tattersall MHN. Supporting treatment decision-making in advanced cancer: a randomized trial of a decision aid for patients considering chemotherapy in advanced colorectal cancer. Journal of Clinical Oncology, 2011
Butow P, Bell M,Goldstein D, Sze M, Aldridge L, Abdo S, Mikhail M, Dong S, Rick S. Ashgari IR, Hui R, Eisenbruch M. Grappling with cultural differences; Communication between oncologists and immigrant cancer patients with and without interpreters. Patient Education and Counselling, 2011 Mar 7 [Epub ahead of print]
Mitchison D, Butow P, Sze M, Aldridge L, Hui R, Vardy J, Eisenbruch M, Iedema R, Goldstein D.Prognostic Communication Preferences of Migrant Patients and their Relatives. Psycho-Oncology 2011 Feb. 23 [Epub ahead of print]
Park S, Lin C, Krishnan AV, Goldstein D, Friedlander M, Kiernan MC. Dose effects of Oxaliplatin on persistent and transient na+ conductances and the development of neurotoxicity. PLoS One 2011 Apr 8; 6(4): e 18469
Zhi J, Chen E, Major P, Burns I, Robinson B, McKendrick J, Riffweger J, Abt M, Goldstein D. A multi-centre, randomised, open-label study to assess the steady state paramacokinetics of Bevacizumab given with either Xeloda or FOLFOX-4 in patient with metastatic colorectal cancer. Cancer Chemotherapy Pharmacology 2011, Mar 16 [Epub ahead of print]
Butow P, Goldstein D, Bell ML, Aldridge LJ, Abdo S, Mikhail M, Dong S, Iedema R, Vardy J, Ashgari R, Hui R, Eisenbruch M. Interpretation in consultations with immigrant cancer patients; how accurate is it? Journal of Clinical Oncology, Jul 10; 29(20): 2801-7. Epub 2011 Jun 13
Clarke SJ, Yip D, Brown, van Hazel GA, Ransom DT, Goldstein D, Jeffrey GM, Tebbut NC, Buck M, Lowenthal RM, Boland A, Gebski V, Zalcberg J, Simes RJ on behalf of the Australasian Gastrointestinal Trials Group. Single agent Irinotecan or FOLFIRI as second line chemotherapy for advanced colorectal cancer; results of a randomised phase II study (DaVINCI) and meta-analysis. European Journal of Cancer, 2011 Aug; 47 (12): 1826-36. Epub 2011 Jun 12
Webber K, Mok K, Bennett B, Lloyd AR, Friedlander M, Juraskova I, Goldstein Don behalf of the FOLCAN Study Group. If I am in the mood, I enjoy it – an exploration of cancer related fatigue and sexual functioning in women with breast cancer. The Oncologist 2011 16:1333-44
Webber K, Cooper A, Kleiven H, Yip D, Goldstein D. Management of metastatic renal cell carcinoma in the era of targeted therapies. Int. Med. Journal 2011 Aug; 41(8): 594-605
Luckett T, Goldstein D, Butow P, Gebski V, Aldridge LJ, McGrane J, Ng W, King MT. The psychological well being and quality of life of US Hispanic and Asian/Pacific Islander cancer patients compared to the majority: A systemic review and meta-analysis. Lancet Oncology 12:1240-8
Peng J, Shi D, Goodman KA, Goldstein D, Xiao C, Guan Z, Cai Z. Early results of quality of life for curatively treated rectal cancers in Chinese patients with EORTC QLQ-CR29. Radiation Oncology 2011 Aug 12; 6(1):93
Butow PN, Phillips F, Schweder J. White K, Underhill C, Goldstein D. Psychosocial wellbeing and supportive care needs of cancer patients living in urban and rural/regional areas: A systematic review. Journal of Supportive Care in Cancer 20:1-22
Dumont AG, Rink L, Godwin KA, Miettinen M, Joensuu H, Strosberg JR, Gronchi A, Corless CL, Goldstein D, Rubin BP, Maki RG, Lazar AJ, Lev D, Trent JC, von Mehren M. A non-random association of gastrointestinal stromal tumor (GIST) and desmoid tumor (deep fibromatosis): case series of 28 patients. Annals of Oncology 2011; 1335-40
Goldstein D, Spry N, van Hazel GA, Carroll S, Selva-Nayagam S, Borg M, Ackland SP, Wratten C, Shapiro J, Porter IWT, Hruby G, Horvath L, Bydder S, Underhill C, Harvey J, Cummins MM, Gebski1 VJ, Brown C on behalf of the Australasian Gastro-Intestinal Trials Group The GOFURTGO Study: AGITG Phase II Study of Fixed Dose Rate Gemcitabine-Oxaliplatin Integrated with concomitant 5FU and 3-D Conformal Radiotherapy for the Treatment of Localised Pancreatic Cancer. British Journal of Cancer, 2012: 106-9
Goldstein D, Bennett BK, Webber K, Boyle F, de Souza PL, Wilcken NRC. Scott E, Toppler R, Murie P, O'Malley L, McCourt J, Friedlander M, Hickie IB, Lloyd AR. Cancer-related fatigue in women with breast cancer: outcomes of a five year prospective cohort study. Journal of Clinical Oncology, 30:1805-12
Wang X, Crowe PJ, Goldstein D, Yang JL. STAT3 inhibition, a novel approach to enhancing targeted therapy in human cancers (Review) Int. Journal of Oncology, epub. Sept 2012
Bennett BK, Park SB, Lin C S-Y, Friedlander ML, Kiernan MC, Goldstein D. Impact of Oxaliplatin-induced Neuropathy: A Patient Perspective. Journal of Supportive Care in Cancer, 2012: 2959-67
Cameron B, Bennett B, Hui L, Boyle F, De Souza P, Wilcken N, Friedlander M, Goldstein D, Lloyd A. Post-cancer fatigue is not associated with immune activation or altered cytokine production. Annals of Oncology 2012; 23:2890-5
Short M, Goldstein D, Halkett G, Reece W, Borg M, Zissiadis Y, Kneebone A, Spry N. The impact of gemcitabine chemotherapy and 3D conformal RT/5FU on quality of life of patients managed for pancreatic cancer. Int. Journal of Radiation Oncology. Biology Physics 2012, 85:157-162, 2013
Demetri GD, Garrett CR, Schöffski P, Shah MH, Verweij J, Leyvraz S, Hurwitz HI , López-Pousa A, Le Cesne A, Goldstein D, Paz-Ares L, Blay J-Y, McArthur GA, Xu Q, Huang X, Harmon CS, Tassell V , Cohen DP, Casali PG. Complete Longitudinal Analyses of the Randomized, Placebo-controlled, Phase III Trial of Sunitinib in Patients with Gastrointestinal Stromal Tumor Following Imatinib Failure. Clinical Cancer Research 2012, 18:317-9
Ngan SY, Burmeister B, Fisher R, Solomon M, Goldstein D, Joseph D, Ackland SP, Schache D, McClure B, McLachlan S, McKendrick J, Leong T, Hartopeanu C, Zalcberg JR, Mackay J. Randomised trial of short course radiotherapy versus long course chemoradiation comparing rates of local recurrence in patients with T3 rectal cancer (TROG 01.04). Journal of Clinical Oncology, 2012, 30:3827-33
Grimison P, Phillips F, Butow P, White K, Yip D, Sardelic F, Underhill C, Tse R, Simes R, Turley K, Raymond C, Goldstein D. Are Visiting Oncologists Enough? A Qualitative Study of the Needs of Australian Rural and Regional Cancer Patients, Carers and Health Professionals. Asia-Pacific Journal of Clinical Oncology; 9:226-238, 2013
Butow PN, Aldridge L, Bell ML, Sze M, Eisenbruch M, Jefford M, Schofield P, Girgis A, King M, Duggal-Beri P, McGrane J, Goldstein Don behalf of the Psycho-oncology Co-operative Research Group (PoCoG) CALD team. Inferior health-related quality of life and psychological well-being in immigrant cancer survivors: A population-based study. European Journal of Cancer, 49:1948-1956, 2013
Shaw J, Butow P, Sze M, Young J, Goldstein D.Reducing disparity in outcomes for immigrants with cancer: a qualitative assessment of the feasibility and acceptability of a culturally targeted telephone-based supportive care intervention. Journal of Supportive Care in Cancer, 21:2297-2301, 2013
Bell ML, Butow PN, Goldstein D. Informatively missing quality of life and unmet needs sexual data for immigrants and Anglo-Australians. Quality of Life Research. 22:2757-2760, 2013
Butow PN, Sze M, Eisenbruch M, Bell ML, Aldridge LJ, Abdo S, Tanious M, Dong S, Iedema R, Vardy J, Hui R, Boyle F, Liauw W, Goldstein D. Should culture affect practice? A comparison of prognostic discussions in consultations with immigrant versus native-born cancer patients. Patient Education and Counselling, Aug;92(2):246-52, 2013
Wang X, Goldstein D, Crowe PJ, Yang JL. S3I-201, a Novel STAT3 Inhibitor, Inhibits Growth of Human Soft Tissue Sarcoma Cell Lines World J. Cancer Res. 1, 61-68 (2013
Butow PN, Bell M, Aldridge LJ, Sze M, Eisenbruch M, Jefford M, Schofield P, Girgis A, King M, Duggal-Beri P, McGrane J, Goldstein D. Unmet needs in immigrant cancer survivors: a cross-sectional population based study. Supportive Care in Cancer Oct 1;31(28):3565-71 2013
Boyer C, Teo J, Phillips P, Erlich RB, Sagnella SM, Sharbeen G, Dwarte T, Duong HT, Goldstein D, Davis TP, Kavallaris M, McCarroll. Effective Delivery of siRNA into Cancer Cells and Tumors Using Well-Defined Biodegradable Cationic Star Polymers. J. Mol Pharm. 2013 Jun 3;10(6):2435-44
Kiely BE, Martin AJ, Tattersall MHN, Nowak AK, Goldstein D, Wilcken NRC, Wyld DK, Askari Abdi E, Glasgow A, Beale PJ, Jefford M, Glare PA, Stockler MR. The median informs the message: the accuracy of individualized scenarios for survival time based on oncologists' estimates J. Clinical Oncology, Oct 1;31(28):3565-7
Tan K, Goldstein D, Crowe P, Yang J-L. Uncovering a Key to the Process of Metastasis in Human Cancers – A Review of Critical Regulators of Anoikis. J. Cancer Res And Clinical Oncology 2103 139:1795-1805
Chou A, Waddell N, Cowley MJ, Gill AJ, Chang DK, Patch A-M, Nones K, Wu J, Pinese M, Johns AL, Miller DK, Kassahn KS, Nagrial AM, Wasan H, Goldstein Det al. Clinical features of HER2 amplified pancreatic cancer Genome Medicine 2013:31:7
Valle JW, Palmer D, Jackson R, Cox T, Neoptolemos JP, Ghaneh P, Rawcliffe CL, Bassi C, Stocken DD, Cunningham D, O'Reilly D, Goldstein D, Robinson BA, Karapetis C et al. Optimal duration and timing of adjuvant chemotherapy after definitive surgery for ductal adenocarcinoma of the pancreas: ongoing lessons from the ESPAC-3 study. J. Clinical Oncology, 2014:504-512
Von Hoff DD, Ervin T, Arena FP, Chiorean EG, Infante J, Moore M, Seay T, Tjulandin SA, Ma WW, Saleh MN, Harris M, Reni M, Dowden S, Laheru D, Bahary N, Ramanathan, Tabernero J, Hidalgo M, Goldstein D, Cutsem EV, Wei X, Iglesias J, Renschler MF. Increased Survival in Pancreatic Cancer with nab-Paclitaxel plus Gemcitabine 2013; 369:1691-1703, New Engl J Med
Park S, Goldstein D, Krishnan AV, Lin C S-y, Friedlander ML, Cassidy J, Koltzenburg M, Kiernan MC.Chemotherapy-Induced Peripheral Neurotoxicity: A Critical Analysis CA Cancer J. Clinical 63:419-437, 2013
Hillman RJ, Garland SM, Gunathilake MPW, Stevens M, Kumaradevan N, Lemech C, Ward RL, Meagher A, McHugh L, Jin F, Carroll S, Goldstein D, Grulich AE, Tabrizi SN. Human papillomavirus (HPV) genotypes in an Australian sample of anal cancers Int J Cancer 2014 Aug 15;135(4):996-1001
Greenhalf W, Ghaneh P, Neoptolemos JP, Palmer DH, Cox TF, Lamb RF, Garner E, Campbell F, Mackey JR, Costello E, Moore MJ, Valle JW, McDonald AC, Carter R, Tebbutt NC, Goldstein D, Shannon J, et al and for the European Study Group for Pancreatic Cancer Pancreatic Cancer hENT1 Expression and Survival From Gemcitabine in Patients From the ESPAC-3 Trial, JNCI J. Natl Cancer Inst 2014 Jan;106(1):djt347
McCarroll J, Teo J, Boyer C, Goldstein D, Kavallaris M, Phillips P. Potential Applications of Nanotechnology for the Diagnosis and Treatment of Pancreatic Cancer Frontiers in Gastrointestinal Sciences 2014 Jan 24;5:2.
Bennett BK, Goldstein D, Chen M, Davenport TA, Vollmer-Conna U, Scott EM, Hickie IB, Lloyd AR. Characterization of fatigue states in medicine and psychiatry by structured interview, Psychosomatic Medicine 2014 Jun;76(5):379-88
Patel MB, Pothula SP, Xu Z, Lee AK, Goldstein D, Pirola RC, Apte MV, Wilson JS.The Role of the Hepatocyte Growth Factor/c-MET Pathway in Pancreatic Stellate Cell-Endothelial Cell Interactions: Anti-angiogenic Implications in Pancreatic Cancer. Carcinogenesis. 2014 Aug;35(8):1891-900 May 29
McGrane JA, Butow PN, Sze M, Eisenbruch M, Goldstein D, King MT.Assessing the invariance of a culturally competent multi-lingual unmet needs survey for immigrant and Australian-born cancer patients: a Rasch analysis. Qual Life Res. 2014 Dec;23(10):2819-30
Goldstein D, Bell ML, Butow P, Sze M, Vaccaro L, Dong S, Liauw W, Hui R, Tattersall M, Ng W, Asghari R, Steer C, Vardy J, Parente P, Harris M, Karanth NV, King M, Girgis A, Eisenbruch M, Jefford M. Immigrants' perceptions of the quality of their cancer care - An Australian comparative study, identifying potentially modifiable factors. Ann Oncol. 2014 Aug;25(8):1643-9
McCarroll JA, Naim S, Sharbeen G, Russia N, Lee J, Kavallaris M, Goldstein D, Phillips PA Role of pancreatic stellate cells in chemoresistance in pancreatic cancer.. Front Physiol. 2014 Apr 9;5:141
Pantaleo MA, Lolli C, Nannini M, Astolfi A, Indio V, Saponara M, Urbini M, La Rovere S, Gill A, Goldstein D, Ceccarelli C, Santini D, Rossi G, Fiorentino M, Di Scioscio V, Fusaroli P, Mandrioli A, Gatto L, Catena F, Basso U, Ercolani G, Pinna AD, Biasco Good survival outcome of metastatic SDH-deficient gastrointestinal stromal tumors harboring SDHA mutations Genet Med. 2015 May;17(5):391-5
Wang X, Goldstein D, Crowe PJ, and Yang JL. Impact of STAT3 Inhibition on Survival of Osteosarcoma Cell Lines Anticancer Res November 2014 34 (11) 6537-6545
McCarroll JA, Sharbeen G, Liu J, Youkhana J, Goldstein D, McCarthy N, Limbri LF, Dischl D, Ceyhan GO, Erkan M, Johns AL, Biankin AV, Kavallaris M, Phillips PA βIII-Tubulin: A Novel Mediator of Chemoresistance and Metastases in Pancreatic Cancer. Oncotargets 2015,10(6);2235-49
Burmeister E , O'Connell D, Jordan S, Payne M, Goldstein D, Merrett N, Beesley V, Janda M, Gooden H, Wyld D, Neale RE Describing Patterns of care in pancreas cancer - a population based study., The Pancreatic Cancer Study Group. et al Pancreas. 2015 Nov;44(8):1259-65
Wang X, Batty K, Crowe P, Goldstein D, Yang JL. The potential of panHER inhibition in cancer Frontiers in Oncology, section Cancer Molecular Targets and Therapeutics. 2015 Jan 28;5;2
Goldstein D,El-Maraghi R, Hammel P, Heinemann V, Kunzmann V, Sastre J, Scheithauer W, Siena S, Tabernero J, Teixeira L, Tortora G, Van Laethem J, Young R, Penenberg D, Lu B, Romano A, and Von Hoff D. nab-Paclitaxel Plus Gemcitabine for Metastatic Pancreatic Cancer: Long-Term Survival From a Phase III Trial JNCI 2015 Jan 31;107(2).
Tabernero, J., Chiorean, E. G., Infante, J. R., Hingorani, S. R., Ganju, V., Weekes, C., Goldstein D, Penenberg DN, Romano A, Ferrara S, Von Hoff DD. Prognostic Factors of Survival in a Randomized Phase III Trial (MPACT) of Weekly nab-Paclitaxel Plus Gemcitabine Versus Gemcitabine Alone in Patients With Metastatic Pancreatic Cancer. The Oncologist 2015 Feb;20(2):143-50.
Murphy C, Sabesan S, Steer C, Yates P, Booms A, Jones V, Simpson A, Clarke K, Eek R, Ashley D, Goldstein D, Packer C, Tuthill F, Boyce A, Underhill C. Oncology service initiatives and research in regional Australia. Aust J Rural Health. 2015 Feb;23(1):40-8
D. Davis, A. Long, S. Yip, D. Espinoza, J. F. Thompson, G.Kichenadasse, M. Harrison, R. M. Lowenthal, N. Pavlakis, A. Azad, G. Kannourakis, C. Steer, D. Goldstein, J. Shapiro, R. Harvie, L. Jovanovic, A. L. Hudson, C. C. Nelson, M. R. Stockler, A. Martin, EVERSUN: A phase 2 trial of alternating sunitinib and everolimus as first line therapy for advanced renal cell carcinoma Annals of Oncology 2015 Jun;26(6):1118-23.
Tebbutt N, Kotasek D, Burris HA, Schwartzberg LS, Hurwitz H, Stephenson J, Warner DJ, Chen L, Hsu CP, Goldstein DMotesanib with or without panitumumab plus FOLFIRI or FOLFOX for the treatment of metastatic colorectal cancer.. Cancer Chemother Pharmacol. 2015 Mar 15
Sharbeen G, McCarroll J, Goldstein D, Phillips P. Exploiting Base Excision Repair to Improve Therapeutic Approaches for Pancreatic Cancer Frontiers in Nutrition, section Gastrointestinal Sciences 2015 Mar 27;2:102015
V. Apte, Z. Xu, S. Pothula, D. Goldstein, R.C. Pirola, J.S. Wilson Pancreatic cancer: The microenvironment needs attention too! Pancreatology 2015 Jul;15(4 Suppl):S32-8.
Sze M, Butow P, Bell M, Vaccaro L, Dong S, Eisenbruch M, Jefford M, Girgis A, King M, McGrane J, Ng W, Asghari R, Parente P, Liauw W, Goldstein D; P Migrant Health in Cancer: Outcome Disparities and the Determinant Role of Migrant-Specific Variables. sycho-oncology Co-operative Research Group Culturally and Linguistically Diverse (CALD) TEAM. Oncologist. 2015 May;20(5):523-31
Lee CK, Goldstein D, Gibbs E, Joensuu H, Zalcberg J, Verweij J, Casali PG, Maki RG, Cioffi A, Mcarthur G, Lord SJ, Yip D, Kanjanapan Y, Rutkowski P. Development and validation of prognostic nomograms for metastatic gastrointestinal stromal tumour treated with imatinib Eur J Cancer. 2015 May;51(7):852-60
Jaeger U, Trneny M, Melzer H, Praxmarer M, Nawarawong W, Yehuda D, Goldstein Det al Rituximab maintenance for patients with aggressive B-cell lymphoma in first remission: results of the randomized AGMT-NHL13 study 8, et al for the AGMT - NHL13 Investigators*. Haematologica. 2015 Jul;100(7):955-63.
O'Callaghan C, Schofield P, Butow P, Nolte L, Price M, Tsintziras S, Sze M, Thein T, Yiu D, Mireskandari S, Goldstein D, Jefford M."I might not have cancer if you didn't mention it": A qualitative study on information needed by culturally diverse cancer survivors , J of Supportive Care in Cancer, 2016 Jan;24(1):409-18..
Beesley V, Janda M, Goldstein D, Gooden H, Merrett N, O'Connell D, Rowlands I, Wyld D, Neale R. A tsunami of unmet needs: pancreatic and ampullary cancer patients' supportive care needs and use of community and allied health services. Psychoncology 2016 Feb;25(2):150-7.
Chandrasegaram M, Goldstein D. Simes J, Gebski V, Kench J, Gill A, Samra J, Merrett N; Richardson A, Barbour A. Meta-analysis of radical resection rates and margin assessment in pancreatic cancer. Br J Surg. 2015 Nov;102(12):1459-72.
Casali PG, Le Cesne A, Poveda Velasco A, Kotasek D, Rutkowski P, Hohenberger P, Fumagalli E, Judson IR, Italiano A, Gelderblom H, Adenis A, Hartmann JT, Duffaud F, Goldstein D, Broto JM, Gronchi A, Dei Tos AP, Marréaud S, van der Graaf WT, Zalcberg JR, Litière S, Blay JY. Time to definitive failure to the first tyrosine kinase inhibitor in localized gastrointestinal stromal tumors (GIST) treated with imatinib as an adjuvant: an EORTC Soft Tissue and Bone Sarcoma Group (STBSG) intergroup randomized trial in collaboration with the Australasian Gastro-Intestinal Trials Group (AGITG), UNICANCER, French Sarcoma Group (FSG), Italian Sarcoma Group (ISG), Spanish Group for Research on Sarcomas (GEIS) J Clin Oncol 2015;33:4276-83
Goldstein D, Rosenberg JE, Figlin RA, Townsend RR, McCann L, Carpenter C, Pandite L Is change in blood pressure a biomarker of pazopanib and sunitinib efficacy in advanced/metastatic renal cell carcinoma?. Eur J Cancer. 2016 Jan;53:96-104
Goldstein DVon Hoff DD, Moore M, Greeno E, Tortora G, Ramanathan RK, Macarulla T, Liu H, Pilot R, Ferrara S, Lu B. Development of peripheral neuropathy and its association with survival during treatment with nab-paclitaxel plus gemcitabine for patients with metastatic adenocarcinoma of the pancreas: A subset analysis from a randomized phase III trial (MPACT) Eur J Cancer 2016:53:96-104
Donskov F, Michaelson MD, Puzanov I, Davis MP, Bjarnason GA, Motzer RJ, Goldstein D, Lin X, Cohen DP, Wiltshire R, Rini BI. Sunitinib-associated hypertension and neutropenia as efficacy biomarkers in metastatic renal cell carcinoma patients. Br J Cancer. 2015 Dec 1;113(11):1571-80
Vajdic CM, Goldstein DCancer of unknown primary site. Aust Fam Physician. 2015 Sep;44(9):640-3.
Bridgewater J, Lopes A, Wasan H, Malka D, Jensen L, Okusaka T, Knox J, Wagner D, Cunningham D, Shannon J, Goldstein D, Moehler M, Bekaii-Saab T, McNamara MG, Valle JW. Prognostic factors for progression-free and overall survival in advanced biliary tract cancer. Ann Oncol. 2016 Jan;27(1):134-40.
Stein A, Arnold D, Bridgewater J, Goldstein D, Jensen LH, Klümpen HJ, Lohse AW, Nashan B, Primrose J, Schrum S, Shannon J, Vettorazzi E, Wege H. Adjuvant chemotherapy with gemcitabine and cisplatin compared to observation after curative intent resection of cholangiocarcinoma and muscle invasive gallbladder carcinoma (ACTICCA-1 trial) - a randomized, multidisciplinary, multinational phase III trial. BMC Cancer. 2015 Jul 31;15:564
ShawJ, Shepherd H; Durcinoska I; Butow P, Liauw W, Goldstein D, Young J. It's all good on the surface: care coordination experiences of migrant cancer patients in Australia Journal of Supportive Care in Cancer 2016 Jun;24(6):2403-10
E Burmeister, SJ Jordan, DL O'Connell, V Beesley, D Goldstein, H Gooden, M Janda, ND Merrett, D Wyld, RE Neale for The Pancreatic Cancer Clinical Working Group Using a Delphi process to determine optimal care for patients with pancreatic cancer Asia Pacific J of Clinical Oncology Asia Pac J Clin ONcol 2016 Jun;12(2):105-14
Scheithauer W; Ramanathan R; Moore M; Macarulla T; Goldstein D; Hammel P; Kunzmann V; Liu H; McGovern D; Romano A; and Von Hoff DD. Dose Modification and Efficacy of nab-Paclitaxel Plus Gemcitabine vs Gemcitabine for Patients With Metastatic Pancreatic Cancer: Phase III MPACT Trial J gastrointestinal oncology 2016 7(3):496-78
Pothula SP, Xu Z, Goldstein D, Pirola RC, Wilson JS, Apte MV. Key role of pancreatic stellate cells in pancreatic cancer. Cancer Lett. 2015 Nov 10
McLachlan SA, Fisher RJ, Zalcberg J, Solomon M, Burmeister B, Goldstein D, Leong T, Ackland SP, McKendrick J, McClure B, Mackay J, Ngan SY The impact on health related quality of life (HRQOL) in the first 12 months: a comparison of short course radiation versus long course chemoradiation for T3 rectal cancer (Trans Tasman Radiation Oncology Group Trial 01.04)" European Journal of Cancer. 2016;55:15-26
G. Chiorean, D. D. Von Hoff, M. Reni, F. P. Arena, J. R. Infante, V. G. Bathini, T. E. Wood,P. N. Mainwaring, R. T. Muldoon, P. R. Clingan, V. Kunzmann, R. K. Ramanathan, J. Tabernero, D. Goldstein, D. McGovern, B. Lu, A. Ko CA19-9 decrease at 8 weeks as a predictor of overall survival in a randomized phase III trial (MPACT) of weekly nab-paclitaxel plus gemcitabine vs gemcitabine alone in patients with metastatic pancreatic cancer Annals of Oncology 2016;27:654-60
Ramanathan R, Goldstein D, Korn RL, Arena F, Moore M, Siena S, Teixeira L, Tabernero J, Van Laethem JL, Liu H, McGovern D, Lu B, Von Hoff DD, Positron Emission Tomography Response Evaluation from a Randomized Phase III Trial of Weekly nab-Paclitaxel Plus Gemcitabine vs Gemcitabine Alone for Patients With Metastatic Adenocarcinoma of the Pancreas Annals of Oncology 2016;27:648-53
Pothula S, Xu Z, Goldstein D,Biankin A, Pirola R, Wilson J, and Apte M. Hepatocyte Growth Factor Inhibition: a Novel Therapeutic Approach in Pancreatic Cancer Br J Cancer 2016 Feb 2;114(3):269-80.
Reichardt P, Demetri GD, Gelderblom H, Rutkowski P, Im SA, Gupta S, Kang YK, Schöffski P, Schuette J, Soulières D, Blay JY, Goldstein D, Fly K, Huang X, Corsaro M, Lechuga MJ, Martini JF, Heinrich MC Correlation of KIT and PDGFRA mutational status with clinical benefit in patients with gastrointestinal stromal tumor treated with sunitinib in a worldwide treatment-use trial.. BMC Cancer. 2016 Jan 15;16:22
Beesley VL, Wockner LF, O'Rourke P, Janda M, Goldstein D, Gooden H, Merrett ND, O'Connell DL, Rowlands IJ, Wyld DK, Neale RE Risk factors for current and future unmet supportive care needs of people with pancreatic cancer. A longitudinal study. Support Care Cancer. 2016, 248:3589-99
Waterhouse MA, Burmeister EA, O'Connell DL, Ballard EL, Jordan SJ, Merrett ND, Goldstein D, Wyld D, Janda M, Beesley VL, Payne ME, Gooden HM, Neale RE. Determinants of Outcomes Following Resection for Pancreatic Cancer-a Population-Based Study. J Gastrointest Surg. 2016 AUG;20(8):1471-81
Hammel P, Huguet F, van Laethem JL, Goldstein D, Glimelius B, Artru P, Borbath I, Bouché O, Shannon J, André T, Mineur L, Chibaudel B, Bonnetain F, Louvet C. Effect of Chemoradiotherapy vs Chemotherapy on Survival in Patients With Locally Advanced Pancreatic Cancer Controlled After 4 Months of Gemcitabine With or Without Erlotinib: The LAP07 Randomized Clinical Trial. JAMA. 2016 May 3;315(17):1844-53.
He EY, Hawkins NJ, Mak G, Roncolato F, Goldstein D, Liauw W, Clingan P, Chin M, Ward RL The Impact of Mismatch Repair Status in Colorectal Cancer on the Decision to Treat With Adjuvant Chemotherapy: An Australian Population-Based Multicenter Study. Oncologist. 2016 May;21(5):618-25
E Chiorean, Daniel Von Hoff, Josep Tabernero, Robert El-Maraghi, Wen Wee Ma, Michele Reni, Marion Harris, Robert Whorf, Helen Liu, Jack Shiansong Li, Victoria Manax, Alfredo Romano, Brian Lu, and David GoldsteinSecond-line therapy after nab-paclitaxel plus gemcitabine or after gemcitabine for patients with metastatic pancreatic cancer Br J Cancer 2016 Jul 12;115(2):188-9
Teo J, McCarroll J; Boyer C; Youkhana J ; Sagnella S; Duong H; Liu J ; Sharbeen G; Goldstein D; Davis T; Kavallaris M; Phillips PA rationally optimized nanoparticle system for the delivery of RNA interference therapeutics into pancreatic tumors in vivo" Biomacromolecules. 2016 Jul 11;17(7):2337-51.
Ferraro D, Goldstein D, O'Connell RL, et alon behalf of the the Australasian Gastro-Intestinal Trials Group TACTIC: a multicentre, open-label, single-arm phase II trial of panitumumab, cisplatin, and gemcitabine in biliary tract cancer.. Cancer Chemother Pharmacol. 2016 Aug;78(2):361-
Pavlakis N, Sjoquist KM, Martin AJ, Tsobanis E, Yip S, Kang YK, Bang YJ, Alcindor T, O'Callaghan CJ, Burnell MJ, Tebbutt NC, Rha SY, Lee J, Cho JY, Lipton LR, Wong M, Strickland A, Kim JW, Zalcberg JR, Simes J, Goldstein D.Regorafenib for the Treatment of Advanced Gastric Cancer (INTEGRATE): A Multinational Placebo-Controlled Phase II Trial J Clin Oncol. 2016 Aug 10;34(23):2728-35.
Gandy RC, Barbour AP, Samra J, Nikfarjam M, Haghighi K, Kench JG, Saxena P, Goldstein D.Refining the care of patients with pancreatic cancer: the AGITG Pancreatic Cancer Workshop consensus Med J Aust. 2016 Jun 20;204(11):419-22
Wang X, Goldstein D, Crowe PJ, Yang M, Garrett K, Zeps N, Yang JL Overcoming resistance of targeted egfr monotherapy by inhibition of stat3 escape pathway in soft tissue sarcoma.. Oncotarget. 2016 Apr 19;7(16):21496-509.
Burmeister EA, Waterhouse M, Jordan SJ, O'Connell DL, Merrett ND, Goldstein D, Wyld D, Beesley V, Gooden H, Janda M, Neale RE. Determinants of survival and attempted resection in patients with non-metastatic pancreatic cancer: An Australian population-based study. Pancreatology. 2016 Jun 23. pii: S1424-3903(16)30485-9
Vernerey D, Huguet F, Vienot A, Goldstein D, Paget-Bailly S, Van Laethem JL, Glimelius B, Artru P, Moore MJ, André T, Mineur L, Chibaudel B, Benetkiewicz M, Louvet C, Hammel P, Bonnetain F Prognostic nomogram and score to predict overall survival in locally advanced untreated pancreatic cancer (PROLAP).. Br J Cancer. 2016 Jul 26;115(3):281-
Targeting the PI3K/PTEN/AKT/mTOR Pathway in Treatment of Sarcoma Cell Lines. Lim HJ, Wang X, Crowe P, Goldstein D,Yang JL. Anticancer Res. 2016 Nov;36(11):5765-5771
Chiorean EG, Von Hoff DD, Tabernero J, El-Maraghi R, Wee Ma W, Reni M, Harris M, Whorf R, Liu H, Shiansong Li J, Manax V, Romano A, Lu B, Goldstein DSecond-line therapy after nab-paclitaxel plus gemcitabine or after gemcitabine for patients with metastatic pancreatic cancer.. Br J Cancer. 2016 Oct 25;115(2):188-94
Radiation Therapy Deviations in Trial of Locally Advanced Prostate Cancer-Reply. Huguet F, Goldstein D, Hammel P. JAMA. 2016 Oct 4;316(13):1409-1410. doi: 10.1001/jama.2016.9781
Next-generation EGFR/HER tyrosine kinase inhibitors for the treatment of patients with non-small-cell lung cancer harboring EGFR mutations: a review of the evidence. Wang X, Goldstein D, Crowe PJ, Yang JL.Onco Targets Ther. 2016 Sep 6;9:5461-73. Review.
de Souza P, Chua W, Clarke S,Goldstein D, Lee C.Inflammatory Markers Have a Role in Renal Cell Carcinoma Prognosis. Eur Urol Focus. 2016 Oct;2(4):341-342
Vickers MM, Lee C, Tu D, Wheatley-Price P, Parulekar W, Brundage MD, Moore MJ, Au H, O'Callaghan CJ, Jonker DJ, Ringash J, Goldstein D. Significance of baseline and change in quality of life scores in predicting clinical outcomes in an international phase III trial of advanced pancreatic cancer: NCIC CTG PA.3Pancreatology. 2016 Aug 30. pii: S1424-3903(16)31181-4
.Ritchie GE, Fernando M, Goldstein D. Rituximab to treat gemcitabine-induced hemolytic-uremic syndrome (HUS) in pancreatic adenocarcinoma: a case series and literature review Cancer Chemother Pharmacol. 2017 Jan;79(1):1-7.
Systemic treatment in advanced biliary cancers: A multicenter Australian analysis and review Brungs D, Aghmesheh M, Sjoquist K, Goldstein D. Asia Pac J Clin Oncol. 2016 Nov 10
Burmeister EA, O'Connell DL, Jordan SJ, Goldstein D, Merrett N, Wyld DK, Beesley VL, Gooden HM, Janda M, Neale RE. Factors associated with quality of care for patients with pancreatic cancer in Australia.Med J Aust. 2016 Nov 21;205(10):459-465
de Souza P, Chua W, Clarke S, Goldstein D, Lee C. Inflammatory Markers Have a Role in Renal Cell Carcinoma Prognosis. Eur Urol Focus. 2016 Oct;2(4):341-342
Tumor Reduction in Primary and Metastatic Pancreatic Cancer Lesions With nab-Paclitaxel and Gemcitabine: An Exploratory Analysis From a Phase 3 Study. Kunzmann V, Ramanathan RK, Goldstein D, Liu H, Ferrara S, Lu B, Renschler MF, Von Hoff DD. Pancreas. 2017 Feb;46(2):203-8 Nov 10.
Lim, B., Miller A., Goldstein D, Butow P.Information Needs of the Chinese Community Affected by Cancer: A Systematic Review. Psycho-Oncology 2016 Dec 14
Sharbeen G, McCarroll J, Liu J, Youkhana J, Limbri LF, Biankin AV, Johns A, Kavallaris M, Goldstein D, Phillips PA MutY-Homolog (MYH) Inhibition Reduces Pancreatic Cancer Cell Growth and Increases Chemosensitivity Oncotargets Oncotarget. 2017 Feb 7:8(6):9216-9229
Watts KJ, Meiser B, Zilliacus E, Kaur R, Taouk M, Girgis A, Butow P, Goldstein D, Hale S, Perry A, Aranda SK, Kissane DW. Communicating with patients from minority backgrounds: Individual challenges experienced by oncology health professionals. Eur J Oncol Nurs. 2017 Feb;26:83-90
Sharbeen G, McCarroll J, Liu J, Youkhana J, Limbri LF, Biankin AV, Johns A, Kavallaris M, Goldstein D, Phillips PA. Delineating the Role of βIV-Tubulins in Pancreatic Cancer: βIVb-Tubulin Inhibition Sensitizes Pancreatic Cancer Cells to Vinca Alkaloids. Neoplasia. 2016 Dec;18(12):753-764
Lees JG, Makker PG, Tonkin RS, Abdulla M, Park SB, GoldsteinD, Moalem-Taylor G. Immune-mediated processes implicated in chemotherapy-induced peripheral neuropathy. Eur J Cancer. 2017 Jan 16;73:22-29
Makker PG, Duffy SS, Lees JG, Perera CJ, Tonkin RS, Butovsky O, Park SB, Goldstein D, Moalem-Taylor G. Caracterisation of Immune and Neuroinflammatory Changes Associated with Chemotherapy-induced Peripheral Neuropathy PLoS One. 2017 Jan 26;12(1):e0170814
Chan DL, Sjoquist KM, Goldstein D, Price TJ, Martin AJ, Bang YJ, Kang YK, Pavlakis N The effect of anti-angiogenic agents on overall survival in metastatic oesophago-gastric cancer: A systematic review and meta-analysis. PLoS One. 2017 Feb 21;12(2):e0172307
Janda M, Neale RE, Klein K, O'Connell DL, Gooden H, Goldstein D,Merrett ND, Wyld DK, Rowlands IJ, Beesley VL Anxiety, depression and quality of life in people with pancreatic cancer and their carers. Pancreatology. 2017: 321-327.
The role of chemotherapy in gastric cancer-related microangiopathic haemolytic anaemia Monica Tang, David GoldsteinJournal of Gastrointestinal Oncology 2017 Feb;8(1):E10-15
Beesley V, Janda M, Burmeister E, Goldstein D, Gooden H, Merrett N, O'Connell D, Wyld D, Chan R, Young J, Neale R. Association between pancreatic cancer patients' perception of care coordination and patient outcomes. Palliative and Supportive Care 2017 Jul 3:1-10.
Hyatt A, Lipson-Smith R, Schofield P, Gough K, Sze M, Aldridge L, Goldstein D, Jefford M, Bell ML, Butow P. Communication challenges experienced by migrants with cancer: A comparison of migrant and English-speaking Australian-born cancer patients. Health Expect. 2017 Mar 5. doi: 10.1111/hex.12529. [Epub ahead of print]
Pang TC, Xu Z, Pothula S, Becker T, Goldstein D, Pirola RC, Wilson JS, Apte MV.Circulating Pancreatic Stellate (Stromal) Cells in Pancreatic Cancer - A Fertile Area for Novel Research. Carcinogenesis. 2017 Jun 1;38(6):588-591
Kandula T, Farrar MA, Kiernan MC, Krishnan AV, Goldstein D, Horvath L, Grimison P, Boyle F, Baron-Hay S, Park SB. Neurophysiological and clinical outcomes in chemotherapy-induced neuropathy in cancer Clin Neurophysiol 2017 Jul;128(7):1166-1175.
McCrary JM, Goldstein D, Boyle F, Cox K, Grimison P, Kiernan MC, Krishnan AV, Lewis CR, Webber K, Baron-Hay S, Horvath L, Park SB; IN FOCUS Delphi working party Optimal clinical assessment strategies for chemotherapy-induced peripheral neuropathy (CIPN): a systematic review and Delphi survey. Support Care Cancer. 2017 Jun 7.
Yang JL, Gupta RD, Goldstein D, Crowe PJ. Significance of Phosphorylated Epidermal Growth Factor Receptor and Its Signal Transducers in Human Soft Tissue Sarcoma Int J Mol Sci. 2017 May 30;18(6). Epub
Sandler CX, Goldstein D, Horsfield S, Bennett BK, Friedlander M, Bastick PA, Lewis CR, Segelov E, Boyle FM, Chin MTM, Webber K, Barry BK, Lloyd AR.Randomized evaluation of cognitive-behavioral therapy and graded exercise therapy for post-cancer fatigue. J Pain Symptom Manage. 2017 May 11. pii: S0885-3924(17)30183-5.
McNamara MG, Bridgewater J, Lopes A, Wasan H, Malka D, Jensen LH, Okusaka T, Knox JJ, Wagner D, Cunningham D, Shannon J, Goldstein D, Moehler M, Bekaii-Saab T, Valle JW. Systemic therapy in younger and elderly patients with advanced biliary cancer: sub-analysis of ABC-02 and twelve other prospective trials. BMC Cancer. 2017 Apr 12;17(1):262.
Watts KJ, Meiser B, Zilliacus E, Kaur R, Taouk M, Girgis A, Butow P, Kissane D, Hale S, Perry A, Aranda SK, Goldstein D. Perspectives of oncology nurses and oncologists regarding barriers to working with patients from a minority background: systemic issues and working with interpreters. Accepted by European Journal of Cancer Care on 24 July 2017.
Martin A; Gibbs E; Sjoquist K; Pavlakis N; Simes J; Price T; Shannon J; Gill S; Jain V; Liu G; Kannourakisj G; Kim YH; Kim JW; Goldstein D. Health Related Quality of Life Associated with Regorafenib Treatment in Refractory Advanced Gastric Adenocarcinoma Gastric Cancer 2017
Feather CE, Lees JG, Makker P, Goldstein D, Kwok J, Moalem-Taylor G, Polly P. Oxaliplatin Induces Muscle Loss and Muscle-Specific Molecular Changes in Mice. Muscle and Nerve 2017
Kandula T, Farrar MA, Krishnan AV, Murray J, Timmins HC,Goldstein D, Lin CS, Kiernan MC, Park SB. Multimodal quantitative examination of nerve function in colorectal cancer patients prior to chemotherapy.Muscle Nerve. 2017 Sep 7. doi: 10.1002/mus.25968. [Epub ahead of print]
Segelov E, Lordick F, Goldstein D, Chantrill LA, Croagh D, Lawrence B, Arnold D, Chau I, Obermannova R, Price TJ.Current challenges in optimizing systemic therapy for patients with pancreatic cancer: expert perspectives from the Australasian Gastrointestinal Trials Group (AGITG) with invited international faculty. Expert Rev Anticancer Ther. 2017 Oct;17(10):951-964
Srinivasa P. Pothula*, Zhihong Xu*, David Goldstein, Neil Merrett, Romano C. Pirola*, Jeremy S. Wilson*, Minoti V. Apte* Targeting the HGF/c-MET Pathway: Stromal Remodelling in Pancreatic Cancer. Oncotarget accepted august 2017
Predictors of care for patients with cancer of unknown primary site in three Australian hospitals. Tan SYS, O'Neill S,Goldstein D, Ward RL, Daniels B, Vajdic CM. Asia Pac J Clin Oncol. 2017 Nov 3. doi: 10.1111/ajco.12815. [Epub ahead of print]
Ghaneh P, Kleeff J, Halloran CM, Raraty M, Jackson R, Melling J, Jones O, Palmer DH, Cox TF, Smith CJ, O'Reilly DA, Izbicki JR, Scarfe AG, Valle JW, McDonald AC, Carter R, Tebbutt NC, Goldstein D, et al Neoptolemos JPThe Impact of Positive Resection Margins on Survival and Recurrence Following Resection and Adjuvant Chemotherapy for Pancreatic Ductal Adenocarcinoma. European Study Group for Pancreatic Cancer.Ann Surg. 2017 Oct 24
Goldstein D, Lemech C, Valle J.New molecular and immunotherapeutic approaches in biliary cancer. ESMO Open. 2017 Mar 27;2(Suppl 1):e000152
Tie J, Cohen JD, Wang Y, Li L, Christie M, Simons K, Elsaleh H, Kosmider S, Wong R, Yip D, Lee M, Tran B, Rangiah D, Burge M,Goldstein D, et al Serial circulating tumour DNA analysis during multimodality treatment of locally advanced rectal cancer: a prospective biomarker study. Gut. 2018 Feb 2. pii: gutjnl-2017-315852. doi: 10.1136/gutjnl-2017-315852. [Epub ahead of print]
Biliary Stenting in Patients With Pancreatic Cancer: Results From a Population-Based Cohort Study. Payne M, Burmeister EA, Waterhouse M, Jordan SJ, O'Connell DL, Merrett ND,Goldstein D, Wyld D, Beesley VL, Gooden H, Janda M, Neale RE. Pancreas. 2018 Jan;47(1):80-86
Barriers and facilitators of exercise experienced by cancer survivors: a mixed methods systematic review. Clifford BK, Mizrahi D, Sandler CX, Barry BK, Simar D, Wakefield CE,Goldstein D. Support Care Cancer. 2018 Mar;26(3):685-700. doi: 10.1007/s00520-017-3964-5. Epub 2017 Nov 28. Review
Ter Veer E, van Rijssen LB, Besselink MG, Mali RMA, Berlin JD, Boeck S, Bonnetain F, Chau I, Conroy T, Van Cutsem E, Deplanque G, Friess H, Glimelius B, Goldstein D, Consensus statement on mandatory measurements in pancreatic cancer trials (COMM-PACT) for systemic treatment of unresectable disease. Lancet Oncol. 2018 Mar;19(3):e151-e160
Thompson SR, Lee ISY, Carroll S, Bishop S, Douglas P, Lam F, Brown C, Williams J, Goldstein D. Radiotherapy for anal squamous cell carcinoma: must the upper pelvic nodes and the inguinal nodes be treated? ANZ J Surg. 2018 Mar 7. doi: 10.1111/ans.14398. [Epub ahead of print]
Elander NO, Aughton K, Ghaneh P, Neoptolemos JP, Palmer DH, Cox TF, Campbell F, Costello E, Halloran CM, Mackey JR, Scarfe AG, Valle JW, McDonald AC, Carter R, Tebbutt NC, Goldstein D, et al Expression of dihydropyrimidine dehydrogenase (DPD) and hENT1 predicts survival in pancreatic cancer. Br J Cancer. 2018 Mar 8
Chiorean EG, Von Hoff D, Wan Y, Margunato-Debay S, Botteman M, Goldstein D. Performance status dynamics during treatment with nab-paclitaxel plus gemcitabine versus gemcitabine alone for metastatic pancreatic cancer Cancer Manag Res. 2018 May 31;10:1389-1396.
Best M, Newson AJ, Meiser B, Juraskova I, Goldstein D, Tucker K, Ballinger ML, Hess D, Schlub TE, Biesecker B, Vines R, Vines K, Thomas D, Young MA, Savard J, Jacobs C, Butow P The PiGeOn project: protocol of a longitudinal study examining psychosocial and ethical issues and outcomes in germline genomic sequencing for cancer. BMC Cancer. 2018 Apr 23;18(1):454.
Battaglini E, Park SB, Barnes EH, Goldstein D. A double blind, placebo controlled, phase II randomised cross-over trial investigating the use of duloxetine for the treatment of chemotherapy-induced peripheral neuropathy. Contemp Clin Trials. 2018 Jul;70:135-138.
Best M, Newson AJ, Meiser B, Juraskova I, Goldstein D, Tucker K, Ballinger ML, Hess D, Schlub TE, Biesecker B, Vines R, Vines K, Thomas D, Young MA, Savard J, Jacobs C, Butow P.

The PiGeOn project: protocol for a longitudinal study examining psychosocial, behavioural and ethical issues and outcomes in cancer tumour genomic profiling. BMC Cancer. 2018 Apr 5;18(1):389.

Wang X, Goldstein D, Crowe PJ, Yang JL.Antitumour effects and mechanisms of action of the panHER inhibitor, dacomitinib, alone and in combination with the STAT3 inhibitor, S3I-201, in human sarcoma cell lines. Int J Oncol. 2018 Jun;52(6):2143-2154
Dumbrava MI, Burmeister EA, Wyld D, Goldstein D, O'Connell DL, Beesley VL, Gooden HM, Janda M, Jordan SJ, Merrett ND, Payne ME, Waterhouse MA, Neale RE. Chemotherapy in patients with unresected pancreatic cancer in Australia: A population-based study of uptake and survival. Asia Pac J Clin Oncol. 2018 Mar 23.
Elander NO, Aughton K, Ghaneh P, Neoptolemos JP, Palmer DH, Cox TF, Campbell F, Costello E, Halloran CM, Mackey JR, Scarfe AG, Valle JW, McDonald AC, Carter R, Tebbutt NC, Goldstein D, et el, Greenhalf W; European Study Group for Pancreatic Cancer. Intratumoural expression of deoxycytidylate deaminase or ribonuceotide reductase subunit M1 expression are not related to survival in patients with resected pancreatic cancer given adjuvant chemotherapy. Br J Cancer. 2018 Apr;118(8):1084-1088
Book Chapters and invited articles
Interferon therapy and cancer. Goldstein D, Laszlo J, Rudnick S. Cancer Biotherapy: Principles and Practice. Ed: Oldham RK. Raven Press, 1987
New therapeutic directions in sarcomas: biologic and cytotoxic modalities. Goldstein D, Borden EC. Sarcomas, Diagnosis and Management. Ed: Ryan JR, Baker LH, Kluwer Academic Publishers, Amsterdam pp. 320-327, 1988
Interferons and neurological disease: a perspective epilogue. Goldstein D, Borden EC. Interferons in the Treatment of Neurological Disease. Ed: Smith R, Dekker M, New York, 1988
The inhibitory effects of growth factors and cytokines on cell proliferation. Goldstein D, Wilding G. The role of growth factors and hormones in normal and pathologic angiognesis and hemopoiesis. Ed. Foa PP, Cohen MP, Springer-Verlag (Berlin) 110-124, 1993
HIV associated malignancies. Goldstein D. Fairfield AIDS Manual Ed: Bowden F, Hoy J, Mihjch A, Robinson J. Melbourne University Press. 183-190, 1995
Clinical trials. Goldstein D, Mitchelmore H, Smith D. The AIDS Manual Third Edition Ed: Gold J, Penny R, et al. McLennan and Petty, Publishers, Sydney. 182-192, 1994
Communication with cancer patients in culturally diverse Societies: Butow P, Tattersall M, Goldstein Din Communication with cancer patients information and truth Ann N.Y. Acad. Sci. 809:317-329, 1997
Management of HIV malignancies. Goldstein Din Cancer, A comprehensive clinical guide. Harwood Academic publishing. ED Morris D. 1998
Goldstein D.The role of chemotherapy in the treatment of pancreatic cancer. Australian Prescriber 2004
Interferon therapy and cancer. Goldstein D, Jones R, Smalley R, Borden EC. Cancer Biotherapy: Principles and Practice. 3rdedition Ed: Oldham R.K. Raven Press, 2004
Yip D, Goldstein D. Editorial Commentary on - Irinotecan plus gemcitabine results in no survival advantage compared with gemcitabine monotherapy in patients with locally advanced or metastatic pancreatic cancer despite increase tumour response rate CM Rocha Lima et al. Journal of Clinical Oncology, 2004; 22: 33776-3783. Cancer Treatment Reviews (Accepted April 2005)
Guidelines for the Diagnosis and Management of Lymphoma – The Cancer Council Australia and Australian Cancer Network, Sydney 2005. Chapter 13 Management of Diffuse Large cell Lymphoma
Immunomodulators and growth factor inhibitors Chapter 10, Goldstein Din Systemic Therapy in Applied Sciences of Oncology Distance Learning course International Atomic Energy Agency, mediworld.com.au/ASOCD2006.htm
Advances in Treatment Options for Patients with Pancreatic Cancer a report by Harris C, Goldstein D, Touch Briefings Asia-Pacific 2008
Interferon therapy and cancer. Goldstein D, Jones R, Smalley R, Borden EC. Cancer Biotherapy: Principles and Practice. 4th edition Ed: Oldham R.K. Raven Press, 2010
Member Consortium Team, Cancer Australia and Cancer Council Australia 2010. Review of national cancer control activity in Australia, Canberra: Cancer Australia
Butow P, Tattersall MHY, Clayton J, Goldstein D. Breaking bad news and truth disclosure in Australia in new challenges in communication with cancer patients. Edited by Antonella Surbone, Matjaz Zwitter, Mirjana Rajer, Richard Steifel, published by Springer
Translating research into everyday patient care: applying the outcomes of psycho-social screening and intervention trials into clinical practice by Goldstein DMBBSs, FRACP. ASCO Education Book 2011
Ackland, Stephen; Goldstein, Davidand McJannett, Margaret. Forty years of COSA - contributions to oncology teaching and research [online]. Cancer Forum, Vol. 37, No. 3, Dec 2013: 238-242.
David L Chan,1 David Goldstein, John R Zalcberg3 Neuroendocrine tumours - models for rare tumour management, Cancer Forum Vol 39, No 1, 13-16, 2015
Prince of Wales Hospital
Suite 20, Level 7 , Suite 13, Barker St
Randwick NSW 2023